Using a Credit Card for Good
Credit cards aren't evil. It's all about how you use them.
You've seen them: tables set up on campus covered in soft-sided coolers or t-shirts, a big "0%*" sign somewhere nearby with some tiny text at the bottom. Someone is trying to get you to sign up for a credit card. A lot of people will tell you to be wary of credit cards. And they aren't wrong. But credit cards are an important part of building credit. Here's a few tips for finding the right credit card and how to use it to your advantage.
Know how to check your credit – Before a company issues you a card, they're going to run a credit check. You should do the same thing. Check the major credit bureaus: Experian, Equifax, and TransUnion. Knowing how to access this information will be helpful if your card is ever stolen. You'll also learn a lot by looking at your credit after you've used your card for a while; what builds your credit, what hurts your credit, and how your habits are helping or hurting you. You can even link other accounts like utilities and even streaming services to your credit reports to help build your credit even faster. Make sure you pay them off on time though.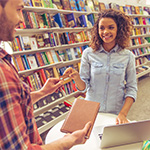 Do your research – Before you sign anything, know the annual rate on the card. Know how long the introductory rate lasts. If you don't pay off your card, what happens? Are there reward points? Do you get reward points if you don't pay off your balance each month? Is there an annual fee? What is your credit limit? Having a credit card is supposed to be a financial benefit, not a burden. Make sure the card you choose is the right one.
The thirty percent rule – Most likely you're going to have a rather low credit limit. But that number is still higher than you should be putting on your card regularly. Besides books and an emergency, you should set a rule of about 30% of your credit limit as a hard stop on spending on your card. The less you have on there the more credit you have for an emergency. Small regular charges like streaming services or utility bills are great for a credit card. They occur regularly and are predictable, helping you avoid overspending while allowing you to have plenty of room for emergencies.
Pay on time – Paying your credit card bill on time seems like a no-brainer, but a lot of people don't do it, incurring interest charges and often losing their rewards points for the month. If you have set charges every month to your card, you can set automatic payments to pay off those charges from your credit union account. If you set that payment to come in halfway through the pay period, then anything extra you can pay off at the end of the payment period.
Leave your card at home – If you're heading out to blow off some steam on a Friday night, leave your card at home. Don't link your credit card to online shopping. This is more metaphorical— you don't need to leave your card at home if you know you shouldn't use it when you're out on the town with friends. Not linking it to online shopping on the other hand… If you need to use your credit card instead of your debit card, you can simply punch in the information and not save it. Saving any card information online isn't the best idea, but that's a different article.
Getting a credit card is supposed to help you. But they can be dangerous. Like fireworks, they can be perfectly safe if used properly and with the correct intent. If you're having trouble finding a card on your own, the best place to look is your credit union. They might have a card they can issue to you or know a few that will fit your needs.